Dinis Guarda Research and Academic work
Dinis Guarda is an author, researcher with academic background and have been working on digital transformation, innovation and emerging technologies, special when it comes to the areas of the Fourth Industrial Relevolution – 4IR, Society 5.0 and the foundational technologies of AI, Blockchain, Fintech and IoT among others, special when it comes to social media and financial technologies where he has been teaching and creating courses for multiple universities and organisations.
Dinis Guarda is the author of the book with Rais Hussin the 4IR – AI, Blockchain, Fintech IoT – Reinventing a Nation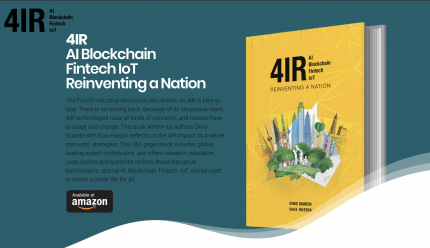 This books reflects on the 4IR impact as a whole to society, our organisations and businesses. The book offers a vision on how to reinvent nations and the best concepts, strategies that can be used for nations, organisations and businesses. This 366 pages book includes content and research from global leading academic, thought leaders and expert contributors. This book picks the research by Dinis Guarda on the ways we can create more inclusive digital transformation that offer both research, education, case studies and guidance on how these disruptive technologies, special AI, Blockchain, Fintech, IoT, can be used to create a better life for all.
Dinis Guarda has been also an evangelist on social networks and a leading influencer, serial entrepreneur and leader in 4IR, Society 5.0, AI, Fintech, digital transformation and in Blockchain. In Blockchain, AI, emerging technologies and Fintech Dinis Guarda has been a top evangelist and influencer in the top 4, 5 and 20 most influencial personalities worldwide in last years in a row. His personal outreach and social media reaches over 2 million people month through his Youtube, Twitter, Instagram and Linkedin profiles.
With over two decades of experience in international business, C level positions and digital transformation, Dinis Guarda has been always working with universitiess where he has been teaching for the last 15 years in the areas of new tech, fintech, blockchain and cryptocurrencies. When it comes to digital assets and innovation on digital currencies Dinis Guarda has been working with major organisations and has managed ICOs, including regulation, compliance, legal international processes, and has created a bank, and been involved in the inception of some of the top 100 digital currencies.
Dinis has created various companies such as Ztudium tech platform a digital and blockchain startup that created the software Blockimpact (sold to Glance Technologies Inc) and founder and publisher of intelligenthq.com, hedgethink.com, fashionabc.org and tradersdna.com. Dinis is also the co-founder of techabc and citiesabc, a digital transformation platform to empower, guide and index cities through 4IR based technologies like blockchain, AI, IoT, etc.
Dinis Guarda has been working with the likes of UN / UNITAR, UNESCO, European Space Agency, Davos WEF, Philips, Saxo Bank, Mastercard, Barclays and governments all over the world.
Dinis work as an academic comprehends being a guest lecturer at Copenhagen Business School, Group INSEEC/Monaco University, where he coordinates executive Masters and MBAs and guest lectures in events and special guest invitations in universities such as Cambridge and Harvard, Islamic University of Malaysia and many others.
As an author, Dinis Guarda published the book 4IR: AI, Blockchain, FinTech, IoT, Reinventing a Nation in 2019, among others. His upcoming book, titled 4IR Magna Carta Cities ABC: A tech AI blockchain 4IR Smart Cities Data Research Charter of Liberties for our humanity is due to be published in 2020.
Dinis Guarda is ranked as one of the most influential people in Blockchain in the world by Right Relevance as well as being listed in Cointelegraph's Top People In Blockchain and Rise Global's The Artificial Intelligence Power 100. He was also listed as one of the 100 B2B Thought Leaders and Influencers to Follow in 2020 by Thinkers360.
Dinis has published research and numerous books and articles in publications such as intelligenthq.com, tradersdna.com, hedgethink.com, openbusinesscouncil.org, cityam, Forbes and many more.
List of books
4IR Book, Publication Date: October 16, 2019, Sold by: Amazon Digital Services LLC, Language: English, ASIN: B07Z816N27, 377 pages.
The Next Tsunami: Blockchain, AI, Cybersecurity and IOT, ztudium /Intelligenthq Editions, upcoming, 300 pages.
"How Businesses and Governments can Prosper with Fintech, Blockchain and AI?", ztudium /Intelligenthq Editions, 300 pages upcoming.
"Tokenomics and ICOs – How to be good at the new digital world of finance / Crypto", ztudium /Intelligenthq Editions, 2017.
How To Map Who You Are, ebook, published by ztudium / intelligenthq, Amazon, 2016
Innovating in a Forever Recession, ztudium / Intelligenthq Editions, Amazon, 2016.
Video Art and Art and Essay Film in Portugal, an arts video curatorial Book project, N_Books (numerodna), 2009.
Excess Globalisation and Emotional DisOrders
Portugal: um retrato cinematográfico (Portugal: a cinematographic portrait), N_Books (numerodna), dir. e ed. Nuno Figueiredo, Dinis Guarda ; textos de Eduardo Lourenço, Paulo Filipe Monteiro, Jorge Leitão Ramos… [et al.], Description: 263 p. 21 x 22 cm, ISBN : 9789729770565, 2004.
http://bibliothequekandinsky.centrepompidou.fr/clientBookline/service/reference.asp?INSTANCE=INCIPIO&OUTPUT=PORTAL&DOCID=0361199&DOCBASE=CGPP
https://alpha.sib.uc.pt/?q=node/261249/cit
Mutantes, curated, edited and participation as a writer and artist, N_Books (numerodna), 2004.
Corpo FastForward – Fast Forward Body, curatorial Book project, editors Dinis Guarda and Joao Urbano, N_Books (numerodna), 2001.
https://www.facebook.com/pg/paulo.henrique.performance/photos/?tab=album&album_id=585603348178098
Rahasya: mistério, Graça Sarsfield, Dinis Guarda, Portuguese Presidência da Républica, 2006 – 81 pages, ISBN 9789729579776,
00:00:01, curatorial Book project, editors Dinis Guarda, N_Books (numerodna), 2001.
NumeroMagazine, fashion, arts and culture quarterly magazine, average 100 pages, N_Books (numerodna), 1997-2005.
Dinis Guarda runs a slideshare acoount that has some of his research and presentations. This slideshare has been in total over 500k views.
You can find it here: